The Biddle Boys and Mrs. Soffel – a lyric opera in three acts
Reviews
"[S]uperb ... more successful compositionally ... than many new works seen at major opera houses."

- Pittsburgh Tribune-Review
"[T]here was no more important concert in Pittsburgh in 2001 than this opera[.] ... You don't have to be a socialist to see that art that connects with people is a good idea, and composer Jeremy Beck created an accessible and at times powerful score."  
- Pittsburgh Post-Gazette
("The Best of 2001")
Based on a tragic love story from the early twentieth century in Pittsburgh, this lyric opera is scored for a large cast and chorus with chamber accompaniment.The Biddle Boys and Mrs. Soffel was commissioned by the Tuesday Musical Club of Pittsburgh (TMC) and produced by TMC June 15-17, 2001. The principal singers were Lorriana Markovic (Kate); Brent Stater (Ed); Patricia Donahue (Margaret); Robert Frankenberry (John); Stephen Schall (Peter); Ja-Nae Duane (Jenny); and Richard Teaster (Detective McGovern).
The production staff included Michele Gray-Schaffer (producer & costume designer); Roger Zahab (conductor); Helen M. Meade (stage director);
John Moyer (musical director); Stephanie Miller (set designer);
Chris Howard (lighting designer); and Mary Beth Glasgow (violin).
Instrumentation:

3 sopranos, 2 mezzos, 3 tenors, 7 baritones, 1 bass-baritone, 2 basses; SSATB chorus; 3 children (non-singing); vln; pno [certain parts taken from chorus]

Date completed:

2000

Duration:

ca. 2 hours

Author:

Libretto by the composer, based on contemporary newspaper accounts

PDF Score:
See a performance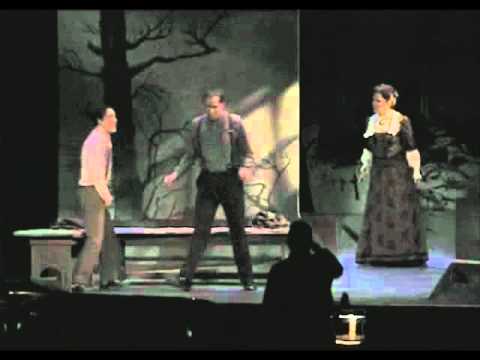 Licensing Options
Request a grand rights license, to produce a live, staged performance of this work.
Order Music
You may order this composition securely with PayPal. Please use the pull-down menu to select the format you prefer (PDF or printed copy) and click the "Add to Cart" button. You may also click "View Cart" which brings you to your "Cart" page. Prior to ordering, please review the Contact & Order page.
Please review the licensing options for this composition before ordering.