Review – a satire, an opera, a party
A group of friends and acquaintances gather for a cocktail party and start a vapid discussion.  Ultimately, it is revealed that this party from hell turns out to be literally from hell, and the party-goers are actually dead, engaging in a review of their trivial lives.Commissioned by Long Leaf Opera (NC), Review is Beck's seventh opera.  The libretto is by Patricia Marx, based on a satire originally written by Ms. Marx for The New Yorker.  With seven principals (3 sop, mezzo, 2 ten, bari) and an optional SATB chorus, this work may be successfully performed with orchestra or with piano.
Review was one of three finalists in the 2010 National Opera Association's New Chamber Opera Competition. Peabody Opera included it in its 2011-2012 season and it was also included in a program of scenes at the College Music Society's 2011 annual convention in Richmond, VA. The video below shares a performance by Peabody Opera.
Review was previously included in the 2009 OPERA America and Houston Grand Opera New Works Sampler.  Following that successful showcase, Review was then produced by the Moores Opera Center at the University of Houston and later was given its New York premiere by the Center for Contemporary Opera in association with James Madison University. Review has since been produced across the country, with orchestra or piano alone, most recently by Oberlin Opera Theater.
Ordering the PDF score or printed score alone will purchase the piano-vocal score. Ordering the PDF score or printed score with parts will purchase the orchestra score and parts.
Instrumentation:

3 sopranos; mezzo; 2 tenors; baritone; optional SATB chorus; 1011/1110/1 perc/pno/2111

Date completed:

2008-2009

Duration:

ca. 15:00

Author:

Patricia Marx

PDF Score:
See a performance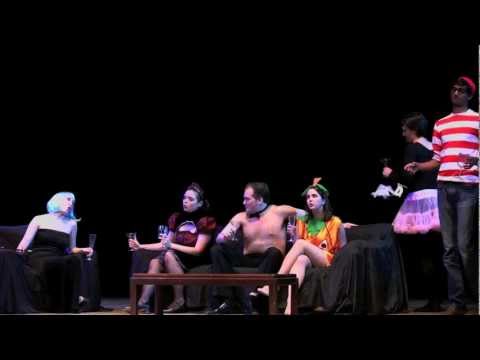 Licensing Options
Request a grand rights license, to produce a live, staged performance of this work.
Order Music
You may order this composition securely with PayPal. Please use the pull-down menu to select the format you prefer (PDF or printed copy) and click the "Add to Cart" button. You may also click "View Cart" which brings you to your "Cart" page. Prior to ordering, please review the Contact & Order page.
Please review the licensing options for this composition before ordering.