Piano Quintet
In my senior year of high school, a group of my classmates and I had performed Dohnányi's Piano Quintet No. 1 in C minor. This early composition was inspired by that experience.
My Piano Quintet was premiered 12 March 1981 at the Mannes College of Music in New York City. The performers were Carole Harris and Mike Wheeler, violins; Claire Norman, viola; David Yellin, cello; and Michael Hersco, piano.
Following this premiere, I revised the work – this revised version was presented 9 November 1981 at Mannes. The performers were Carole Harris and Julie Metz, violins; Claire Norman, viola; Jeremy Beck, cello; and Heather Coltman, piano.  This is one of the few public performances of my compositions in which I participated as one of the players; the recording below comes from that performance.
In 2015, I further revised the Piano Quintet. A finalist in the 2016 Bruno Maderna Competition, this version was premiered 30 July 2016 in Lviv, Ukraine with Petro Titiaiev (first violin), Dmytro Les'ko (second violin), Ustym Zhuk (viola), Dmytro Nikolaev (cello) and Natalia Martynova (piano).
Instrumentation:

violin (2), viola, cello, piano

Date completed:

1981, rev. 2015

Duration:

ca. 12:00

Audio:

Piano Quintet (II. Largo)

/wp-content/uploads/2012/08/Piano-Quintet-mvt.-II.mp3

See a performance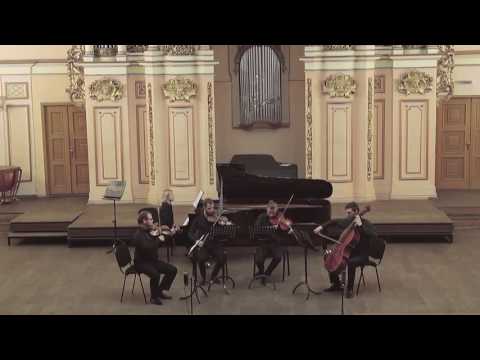 Order Music
You may order this composition securely with PayPal. Please use the pull-down menu to select the format you prefer (PDF or printed copy) and click the "Add to Cart" button. You may also click "View Cart" which brings you to your "Cart" page. Prior to ordering, please review the Contact & Order page.