Concertino for two cellos & string orchestra
Concertino for two cellos and string orchestra opens with a type of brief fanfare in the solo cellos before the main theme is introduced in the strings. This lively, syncopated theme is developed and moves between the soloists and the ensemble before arriving at a calmer middle section. The initial rhythm of the motive here recalls the brief opening fanfare. This middle section closes with cadenza-like interplay between the soloists that brings a return to the opening material. The repetition of the opening is expanded to include another cadenza-like passage, before the movement ends with a rousing coda.
The second movement presents a slow, lyrical Interlude, the melody of which is related in part to the first movement's middle section. This Interlude acts as both a substitute slow movement and as an introduction to the animated and energetic music that follows. This is dance music that grows progressively faster, from Allegro to Vivo, to più Vivo and beyond, until it flies to a sparkling conclusion.
Concertino was composed as a result of winning the Iowa Composers Forum 2006 Linn-Mar Double Concerto Commission Competition.  The work was premiered by the Linn-Mar Chamber Orchestra (Iowa), Joshua Reznicow, conducting, with soloists Carey Bostian and his student Sarah Malerich.
In 2017, following a slight revision of the work, it was recorded in Sofia, Bulgaria – this recording appears on Beck's 2020 CD, by moonlight. This version was premiered 28 February 2019 in Mexico City by the Orquesta de Cámara de Bellas Artes, José Luis Castillo, artistic conductor, with soloists Luz del Carmen Águila and Adriana Carrasco. It was performed again by this group and the same soloists
on 3 March 2019 at the Conservatorio Nacional de Música with the
composer in attendance. The final measures of the first
movement were presented as an encore at this performance.
This composition may be purchased or is available on a rental basis from:
The Edwin A. Fleisher Collection of Orchestral Music
The Free Library of Philadelphia
1901 Vine Street Philadelphia, PA 19103-1116
tel (215) 686-5313
fleisher@freelibrary.org
Instrumentation:

two cello solos; strg orch

Date completed:

2006

Duration:

ca. 10:00

Audio:

Concertino (I)

/wp-content/uploads/2018/07/Concertino-I.mp3


Concertino (II)

/wp-content/uploads/2018/07/Concertino-II.mp3


Publisher:
Featured Recording
See a performance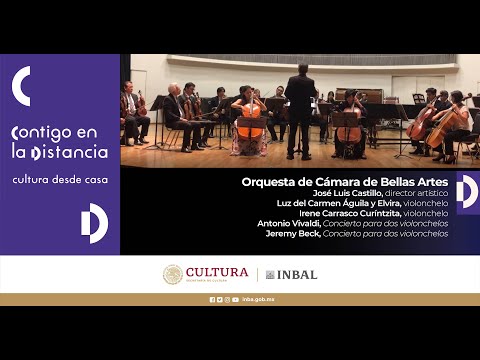 Licensing Options
Request a mechanical, digital, synchronization, master recording, photocopying or other general music license for this work.
Order Music
You may order this composition securely with PayPal. Please use the pull-down menu to select the format you prefer (PDF or printed copy) and click the "Add to Cart" button. You may also click "View Cart" which brings you to your "Cart" page. Prior to ordering, please review the Contact & Order page.
Please review the licensing options for this composition before ordering.