Black Water for soprano & piano
Reviews
"[Black Water] is a very powerful and moving work and [Karen] Fitz-Gibbon invests it with all of the emotional range needed, from the fun of the party, the fear at the fast driving, the shock of the accident, and the hope for an imminent rescue. Fitz-Gibbon displays a phenomenal control of her voice and exceptional acting skills, with a most empathetic accompaniment from [Julie] Sargeant."
- GlamAdelaide (Australia)

"As an opera, Black Water is more in the Sondheim vein than Mozart. … Opera is a hard sell in 'small' theatre; …. [but] Black Water is one of the best I've seen."
– Theatre in London (Canada)

"Black Water … showcase[s] Beck's dramatic flair."
- Gramophone Magazine

"Beautiful and haunting"
- Joyce Carol Oates

"Beck's impulsive, non-linear accompaniment [in Black Water] reflects his interest in literary/cinematic programming over the typical musical program."
- All Music Guide

"There is a considerable range of moods [in Black Water], many rapid switches of pace and idiom, a sustained intensity all communicated in a performance which has both force and subtlety."
- MusicWeb International

"[E]nthralling ... stunning in its intensity" - The Herald-Sun (Durham, NC)

In 1969, the dead body of a young woman, Mary Jo Kopechne, was discovered inside an overturned car in a channel on Chappaquiddick Island, Massachusetts. The car belonged to Senator Edward M. "Ted" Kennedy, who did not report the late-night incident to police authorities until the following morning. After the discovery, Kopechne's body was recovered from the submerged car and Kennedy gave a statement to police saying that during the previous night, she was his passenger when he took a wrong turn and accidentally drove his car off a bridge and into the water. After pleading guilty to a charge of leaving the scene of an accident after causing injury, Kennedy received a suspended sentence of two months. The national scandal that followed may have influenced Kennedy's decision not to campaign for President of the United States in 1972 and 1976.
Black Water by Joyce Carol Oates is a slightly-veiled fictional account of these events. With her permission, I completed this work in 1994, writing and shaping the libretto from her novella. This extended composition is dramatically effective as both a concert work and as a staged monodrama. Whether in a concert setting or in the theater, the soprano assumes multiple roles and states of mind (following the variety of levels created by Oates). The work is presented almost completely from the point of view of the drowning woman: in reality, in flashback, in dreams and in hallucinations.
The concert premiere of Black Water was given by Jean McDonald (soprano) and Robin Guy (piano) on March 29, 1995 at the University of Northern Iowa; it was later recorded by these artists for a 2006 release on the innova label. In March, 2012, it was given its Australian concert premiere in a Co-Opera presentation at the Adelaide Fringe Festival featuring Karen Fitz-Gibbon (soprano) and Julie Sargeant (piano).
On April 29, 2016, the Center for Contemporary Opera presented the stage premiere of Black Water as a part of a sold-out double bill in the Thalia Theater at New York City's Symphony Space. The soprano, Laura Bohn, was accompanied by pianist Isabella Dawis. This premiere was directed by Eugenia Arsenis with music direction by Lidiya Yankovskaya.
Instrumentation:

soprano, piano

Date completed:

1994

Duration:

ca. 41:00

Author:

Adapted text by the composer, based on the novel by Joyce Carol Oates (used by permission)
Featured Recording
See a performance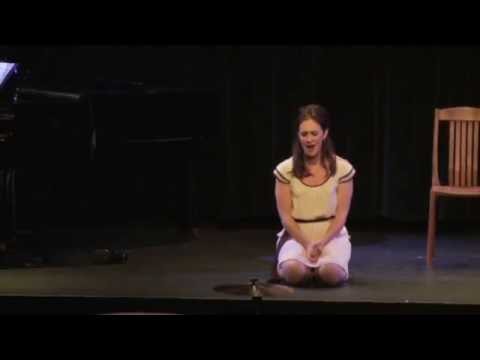 Licensing Options
Request a grand rights license, to produce a live, staged performance of this work.
Order Music
You may order this composition securely with PayPal. Please use the pull-down menu to select the format you prefer (PDF or printed copy) and click the "Add to Cart" button. You may also click "View Cart" which brings you to your "Cart" page. Prior to ordering, please review the Contact & Order page.
Please review the licensing options for this composition before ordering.