Sonata No. 1 for cello & piano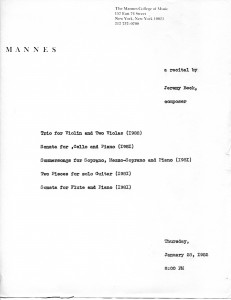 This composition was premiered 28 January 1982 on a recital of my work at the Mannes College of Music in New York City. The performers were Patricia Smith, cello, and Heather Coltman, piano. This Sonata is in two movements, which are played attacca. The opening melody is a 10-note tonal series derived from my first and last names. This is a recording of that premiere.
You may order this composition below; if you would like to order a complete, bound set of all three of my cello sonatas (scores and parts), please email me directly.
Instrumentation:

cello, piano

Date completed:

1981

Duration:

ca. 8:00

Audio:

Sonata No. 1 for Cello and Piano

/wp-content/uploads/2012/08/Sonata-No.-1-for-Cello-and-Piano.mp3

Order Music
You may order this composition securely with PayPal. Please use the pull-down menu to select the format you prefer (PDF or printed copy) and click the "Add to Cart" button. You may also click "View Cart" which brings you to your "Cart" page. Prior to ordering, please review the Contact & Order page.