Laughter in Jericho – a chamber opera in one act
Laughter in Jericho is my fifth opera and was commissioned in 1997 by Lou Rodgers for Golden Fleece, Ltd., the Composer's Chamber Theatre. This work is a fictional account of the confrontation at Ruby Ridge in 1993. Scored for voices, tape, viola and piano, the composition of this work was supported, in part, by a Summer Fellowship from the University of Northern Iowa Graduate College and by the Millay Colony for the Arts, New York.
Laughter in Jericho was premiered 20-23 November 1997 by Golden Fleece at The Sanford Meisner Theater in New York City. The opera was double cast, and featured Lucy Sorlucco and Anne Jacobs (Sarah); Lee Poulis and Mark Peters (Ray); John Nelson and Randall Schloss (Jimmy); Beth Fischer and Thais Schaller-Thomas (Melody); and Richard Spore (FBI Man). The production staff included Gary M. Schneider (music director & conductor); Lou Rodgers (stage director); Lou Anne Gilleland (set design); David Shepherd (lighting design); Peter Stein (viola); and Joe Arsenault (piano).
Instrumentation:

soprano, mezzo, tenor, baritone, 2 actors, viola, piano, electronics

Date completed:

1997

Duration:

ca. 15:00

Author:

Libretto by the composer
See a performance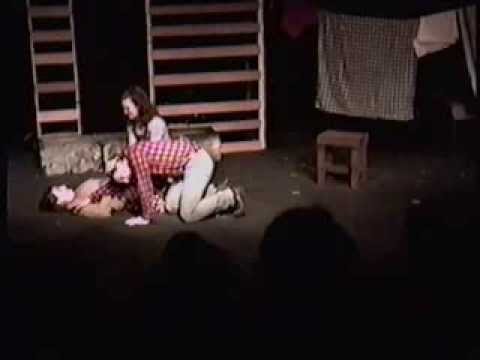 Licensing Options
Request a grand rights license, to produce a live, staged performance of this work.
Order Music
You may order this composition securely with PayPal. Please use the pull-down menu to select the format you prefer (PDF or printed copy) and click the "Add to Cart" button. You may also click "View Cart" which brings you to your "Cart" page. Prior to ordering, please review the Contact & Order page.
Please review the licensing options for this composition before ordering.