Chloe and the Magical Christmas Forest – a children's opera
Commissioned by TADA! Youth Theater in New York City, Chloe and the Magical Christmas Forest is a musical fable. Presents appear in a magical forest only on Christmas Eve.  According to tradition, the villagers gather presents for each other and then share them on Christmas morning. However, on this particular Christmas Eve, a stranger appears.  He learns of the tradition and wonders why the villagers don't simply gather gifts for themselves, for that way each would get exactly what he or she wants. The villagers are convinced this would be a good change, until they discover that the forest has yielded no presents. They learn of their mistaken choice when one of the villagers (Chloe) decides to stick with the old tradition by gathering gifts for her sick brother (Joey). In the end, the villagers agree that in the future they will stick to gathering gifts for others and not for themselves.
A type of hybrid opera/musical that is entirely sung, Chloe and the Magical Christmas Forest may be performed by any combination of adults and/or children. At its premiere, it was performed entirely by young people ages 5-18, with a conductor and chamber accompaniment of flute, violin, cello and percussion. TADA! produced the opera both in 1985 and 1988 in New York City, where it ran for dozens of performances. In the 1988 production, the part of Chloe was performed by a young Mizuo Peck.
The piano/vocal score is available for purchase. Please inquire if you wish to obtain a full score and instrumental parts.
In the excerpt below from Scene 2, a traveling stranger enters the Town and the villagers share their celebration with him.
Instrumentation:

youth chorus & soloists, flute, violin, cello, percussion

Date completed:

1985; 1988; rev. 2023

Duration:

ca. 55:00

Author:

Libretto by the composer

Audio:

Scene 2: The Ballroom, Christmas Eve (excerpt)

/wp-content/uploads/2012/08/Beck_Once-a-Year-on-Christmas-Eve_Scene-2b-excerpt.mp3

See a performance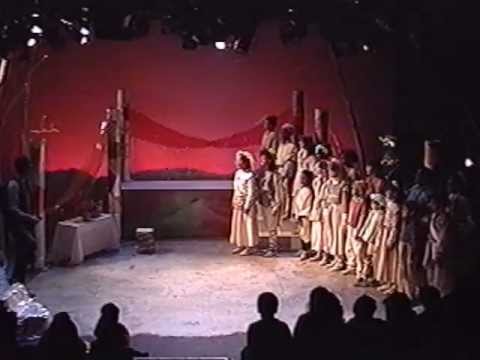 Licensing Options
Request a grand rights license, to produce a live, staged performance of this work.
Order Music
You may order this composition securely with PayPal. Please use the pull-down menu to select the format you prefer (PDF or printed copy) and click the "Add to Cart" button. You may also click "View Cart" which brings you to your "Cart" page. Prior to ordering, please review the Contact & Order page.
Please review the licensing options for this composition before ordering.