The Highway – an opera noir in four scenes
Reviews
The Highway is "an impressive opera by Jeremy Beck, a gifted young composer at the Yale School of Music. ...[His] handling of dramatic relationships and superimposed time was masterful."
- The New Haven Register
Based on a story by O. Henry, The Highway is a contemporary story of a young man's attempt to forge an artistic life in the face of various difficulties.
New Music New Haven (Jacob Druckman, artistic director) and Yale Opera (Doris Yarick-Cross, artistic director) presented a semi-staged performance of this work with chamber orchestra at Yale on April 16, 1992. The cast included Cynthia Zielski (soprano); Mary Phillips (mezzo); Douglas Purcell (tenor); Alan Arak (baritone); and Michael Chioldi (baritone). The conductor was Thomas Duffy, with stage direction by Paul Schick and musical preparation by the composer and Laura Manning.
Winner of Yale's Woods Chandler Memorial Prize for Best Work in a Large Form, excerpts from The Highway were also presented by New York City Opera as a part of that company's VOX series in May of 2000 at Cooper Union, New York City. The cast included Adina Aaron (soprano); Patricia Coffin (mezzo); Enrique Abdala (tenor); Michael Lofton (baritone); and Eric Lodal (baritone). The conductor was Glen Cortese, with musical preparation by Susan Woodruff Versage.
Ordering the PDF score or printed score alone will purchase the piano-vocal score. The orchestra score and parts are available on a rental basis only.
Instrumentation:

soprano, mezzo, tenor, 2 baritones; 1011/1100/perc, pno, gtr/strgs

Date completed:

1991-92

Duration:

ca. 75'

Author:

Libretto by the composer, based on a story by O. Henry

PDF Score:
See a performance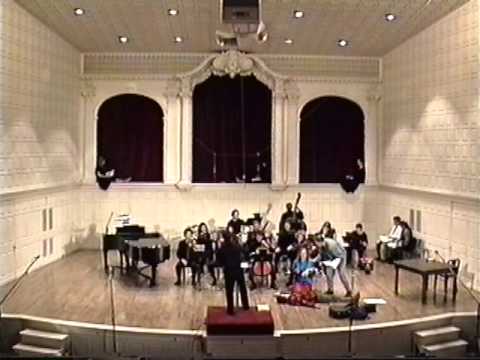 Licensing Options
Request a grand rights license, to produce a live, staged performance of this work.
Order Music
You may order this composition securely with PayPal. Please use the pull-down menu to select the format you prefer (PDF or printed copy) and click the "Add to Cart" button. You may also click "View Cart" which brings you to your "Cart" page. Prior to ordering, please review the Contact & Order page.
Please review the licensing options for this composition before ordering.